Subscribe to the Scandinavian Philatelic E-News
Subscribe to the Scandinavian Philatelic E-News
2003 September 25
SCANDINAVIAN PHILATELIC E-NEWS
September 25, 2003

CONTENTS:

1. New Price Lists:
New Weekly Special: Danish Essay Set
U.S. Stamp Specials enlarged

2. New Philatelic Literature:
Iceland Thorvaldsen Society Christmas Seals

3. Jay's Observations
Hurricane Isabel
Special Swedish Anna Lindh Stamp Issue
Stamp Color Guides

The following sections are no longer timely, however, there are many new opportunities to be seen on the web site at...
Pre-owned & One-of-a-Kind Scandinavian Philatelic Literature
Used Albums and Binders
Scandinavian Collections and Lots
U.S. and Worldwide Collections and Lots
United States Individual Stamps: Great Items at Great Prices!
World Individual Stamps: Great Items at Great Prices!

1. NEW PRICE LISTS

DANISH ESSAY SET IS NEW WEEKLY SPECIAL: The 1938 Thorvaldsen set celebrates the Danish sculptor Bertel Thorvaldsen. This set of essays is an unaccepted proposal for the stamps that were issued in 1938. If you enjoy Danish art and culture, you will particularly enjoy this set. If sold singly, these 12 stamps would total $104. As a set of 12, my already low price is $55, but the set is now on special for only $42! This is a limited-time offer. See and order them here.

U.S. STAMP SPECIALS EXPANDED: There is more and more in the U.S. stamp section. I have just added some very attractive blocks and plate blocks in the range of Scott #367-701 and #C1 (1909-1931). Additionally if you collect Superb quality, there are some very nice single stamps in the 1900-1930 area. The prices are very, very reasonable! Ten pages of U.S. listings start here.

2. NEW PHILATELIC LITERATURE

Book orders totaling over $30 are postpaid in the U.S. For book orders totaling under $30, please add $3. Postage to other countries varies by weight & method; please inquire.

ICELAND THORVALDSEN SOCIETY CHRISTMAS SEALS
(Eythorsdottir, 2000; Jolimerki Thorvaldsensfelagsins) Attractive and interesting book giving the history of the Icelandic Christmas Seals official issuer and listing all the seals. In FULL COLOR and gives a full description of the seal including a bio of the artist. In Icelandic. #17028 $22.00 Order here

3. JAY'S OBSERVATIONS

HURRICANE ISABEL

Last week (September 17-19) we were preparing for Hurricane Isabel. Although Snow Camp is in the center of North Carolina, we have previously experienced major problems with hurricanes, including being out of power for several days. Thus with Isabel starting out as a category 5 hurricane (it was down to category 2 when it finally landed), we took it seriously.

Fortunately, we had no significant problems in our area. We were out of power for "only" about five hours (restored at 12:30 in the early morning). While the odd tree blew down, there was no significant flooding or injuries in our region.

Here are a couple nice radar pictures of Isabel. The red closed circle/dot is Snow Camp and the red open circle is the eye of the storm. (These are fairly large images and take a minute to load.) Regional View and State View.

While Isabel did a lot of damage in some areas of North Carolina's Outer Banks (barrier islands), the effect on large numbers of people was much greater (due mainly to flooding) in areas of Virginia and Maryland.

Once again the Red Cross stepped up to help those in need. The Red Cross' emergency funds are running dangerously low due to all the problems in the last couple years. The Red Cross needs our support; please consider making a donation this year. And also remember to give blood.

SPECIAL SWEDISH ANNA LINDH STAMP ISSUE

The recent murder of Swedish Foreign Minister Anna Lindh (1957-2003) will be marked by a special stamp issue.

Preliminary information is that a booklet will be issued on 11 November and will contain four stamps with inland and foreign rates (probably two SEK 5.50 and two SEK 10.00). It is said that the booklet will have a (semi-postal type) surcharge of SEK 4.00 for the Anna Lindh Memorial Fund. The total face value for the booklet will be SEK 35.00. The stamps will be engraved by Lars Sj÷÷blom.

I am trying to determine if the stamps will be included in the Sweden 2003 year packs, but I suspect that they will not be. In 1986, a similar issue was prepared after the murder of Olof Palme; those stamps were not put in the 1986 year pack because the year packs had already been printed.

Jay Smith & Associates Scandinavian New Issue Service subscribers will automatically receive this issue as with any other stamp issue. If the stamps are not included in the year pack, they will be supplied by me for complete coverage.

If you do not have a new issue service, I invite you to join mine. If you prefer to order this item singly, reservations are being taken now. First Day Covers MUST be reserved well in advance. I suspect that the stamp issue will be a fast sell-out and perhaps sell-out (i.e. be over- subscribed) even before the day of issue (meaning that orders from the post office will be cut back). This has happened a couple times in the last couple of years. If you have an interest in this stamp issue, take action now.

The news yesterday was that one suspect in this murder had been released, but another had been arrested.

STAMP COLOR GUIDES

I am often asked "Is there a color guide that shows what the colors in a stamp catalog actually look like?" The simple answer is no, not at this time. Every catalog uses different color naming and every different editor of any given catalog has different perceptions of colors and their names. Any two people sitting in the same room, looking at the same stamp, will often give it two different color names.

However, a long time ago Stanley Gibbons issued a color guide that used actual printed stamp-like labels to show their idea of the colors they associated with the various color names. I am very lucky to be able to offer an example of this rare guide; it has been at least 20 years since I last even saw one! This is a collectible in its own right.

#A50082 Stanley Gibbons Colour Guide
Classic folder containing 100 different (complete set) colored labels produced by Perkins, Bacon & Co. for Stanley Gibbons. For many years this was the standard guide to stamp colors and is still a wonderful tool in distinguishing shade differences. There is some trivial perf toning which is quite common and typical for its age, but we still consider the condition of this item to be VF. When offered by Cinderella dealers, these labels sell individually for $5.00 each. Here is an opportunity to own the complete set of 100 at a significant savings! $350.00 Order here


The following sections of this edition of the E-News are no longer timely, however, there are many new opportunities to be seen on the web site at...
Pre-owned & One-of-a-Kind Scandinavian Philatelic Literature
Used Albums and Binders
Scandinavian Collections and Lots
U.S. and Worldwide Collections and Lots
United States Individual Stamps: Great Items at Great Prices!
World Individual Stamps: Great Items at Great Prices!


NEW CATALOG
FALKLAND ISLANDS
We are U.S. Distributor
The KEY reference!
In Stock
Order Now!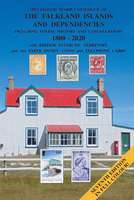 The primary reference for all aspects of Falkland philately, including postal history and postmarks.
$49.00 Postpaid
in U.S. by Media Mail
---

FEATURED SPECIAL
SWEDEN
Official Blackprint
1856/1862 Local Stamp
Very Limited Supply!
Order Now!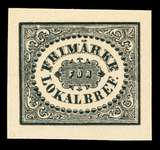 Official blackprint/reprint made in 1930 to aid in study of the printing plate. Ungummed on thick card, as issued. Seldom offered.
Single $12.00
Pair $22.00
Block $40.00
Other reprints also available.


---

FEATURED SPECIAL
Rare ICELAND 1911
CHRISTMAS SEAL
World Classic Seal Design
Very Limited Supply!
Order Now!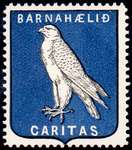 Seldom offered and rarely at such a low price! A once-in-a-lifetime purchase allows me to share the savings with you.
NH VF normally $60.00!
NH VF Only $36.00!
(A few others $18-$48.
1904 and 1905 also available.)


---

FEATURED SPECIAL
DANISH "STAMP COINS"
From World War II
Only a few available!
Order Now!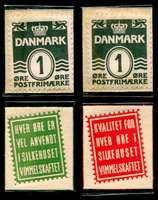 SET OF TWO.
Only $16.00!
IN STOCK!
---
FEATURED SPECIAL
SWEDISH LADYBUG VERTICAL COIL "ERROR"
Limited Supply!
Order Now!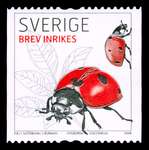 Unplanned Vertical Coil "Error" Stamp.
IN STOCK!
---
SPECIAL OFFERS!
GREAT VALUES!
Updated 6 October 2022
Scandinavia:

Philatelic Literature

Collections

Used Albums
U.S. Stamps:

NH, Mint, and Used at great prices.

Collections
World Stamps:

Better stamps at great prices.

Collections
SCANDINAVIAN PRICE LISTS BY POSTAL MAIL
Over 100 pages of price lists are available by postal mail. While these will eventually also be available on the web, I am not quite there yet. Request your copy of the printed price lists today.
SCANDINAVIAN PRICE LISTS ON THE WEB Take a look at my specific country price lists and topic price lists on the web.
Approvals are the best way to add to your collection.
If you prefer to examine stamps and compare them to your collection, before you purchase, you will very much enjoy my approval service. Send your want list today.
Stender Scandinavian Stamp Albums
Albums made in Scandinavia, by Scandinavians make the most sense. Well designed and attractive, these extremely price competitive albums will make a great home for your collection. See the complete price list.
I have added a Frequently Asked Questions "FAQ" page for web site, computer, and Internet questions as they relates to my site. I welcome your comments, input, suggestions, corrections, etc.