Subscribe to the Scandinavian Philatelic E-News
Scandinavian Philatelic E-News: 2008 August 28

If you missed the 1 April 2008 E-News discussing, illustrating, and offering the

Swedish Ladybug "error" stamp,

click here.

If you missed the 17 April 2008 E-News discussing, illustrating, and offering the

Norden 2008 Nordic Mythology issues & pack

, click here.


CONTENTS:

1. New Items on the Website
Greenland "American Issue" Stamps
U.S. Stamps
Worldwide Stamps
Scandinavian Newly Issued Stamps
Icelandic Christmas Seals

2. New Book: Norway Revenue Catalog

3. News and Notes
APS Stamp Show Report
Personal Notes from Bonnie Smith
Our Stamp Show Schedule

4. Special Offers: Collections & Albums -- Great Buys

5. Used and One-of-a-kind Philatelic Literature

1. New Items on the Website
Top
[Click on images to see the applicable price lists and more pictures,
along with links to larger pictures.]

GREENLAND "AMERICAN ISSUE" STAMPS:
Varieties, Inverts, Specimens, Village Postmarks.


The Greenland "American Issue" stamps have new listings as well as other areas of Greenland. There are village postmarks, inverted overprints, shifted overprints, specimen overprints, and quite a few exceptionally well centered "normal" stamps. Especially take a look at the Greenland Gallery - Stamps and the Greenland New Arrivals - Stamps pages.


---

[Click on images to see the applicable price lists and more pictures,
along with links to larger pictures.]

UNITED STATES STAMPS

The United States listings have again been expanded with many attractive and fresh stamps. The $2.60 Zeppelin pictured above is an outstanding example.

If you collect U.S. stamps, you really should take a look.


---

[Click on images to see the applicable price lists and more pictures,
along with links to larger pictures.]

WORLDWIDE STAMPS

In the Worldwide arena, there have been a wide range of new listings.

Argentina includes one of the "key modern values" that is missing from most collections. The Argentina section also includes a cover bearing 130 stamps!

Other significantly expanded areas include: Belgium, Costa Rica, Czechoslovakia, France (many pages), and German Area(many pages).

You can also start at the Worldwide Table of Contents. Please take a look for "your" country.


---

[Click on images to see the applicable price lists and more pictures,
along with links to larger pictures.]

NEWLY ISSUED SCANDINAVIAN STAMPS



I have added to the website the new/recent stamps for ┼land, Denmark, Faroe, Greenland, and Iceland.

Of special note are the Danish "Louisiana" Museum for Modern Art issues that many people won't get through their usual new issue sources (but you will get if you subscribe to my new issue service). These include a prestige booklet containing souvenir sheets that are only available from the booklet. Also a stamp strip that was only available in a special pack and which most people will not learn about for several years.

┼land had two unusual issues: A triangle-shaped stamp for the Olympics (makes for interesting gutter pairs) and a Lighthouses booklet that contains two different tete-beche blocks and is partially engraved by Martin M÷rck and Lars Sj÷÷blom!

Iceland deserves special mention for a 4-stamp Industrial Design issue that has three tete-beche pairs. (Most people won't know about these until they are long sold out.) The Europa issue exists both in "normal" perforated form and die-cut self-adhesive booklet form; the latter is likely to become scarce.

The 2007 Year Packs and Year Books have been on the website for a while now, though I have yet to add the "additional items" that the post offices did not include in the 2007 year packs to the year pack web pages. I would normally also send them if you request a year pack, thus please let me know if you specifically do or do not want any stamps and souvenir sheets that the post offices did not place in the year packs.

The new issue individual stamps for Finland, Norway, and Sweden are in stock as well, but I don't yet have them on the website. Please send your want list!

┼LAND Recently Issued: Stamps, Booklets, Gutter Pairs, Gutter Strips, FDCs, Year Packs, Year Books.

DENMARK Recently Issued: Stamps, Year Packs, Year Books.

FAROE: Recently Issued Stamps, Booklets, FDCs, Year Packs, Year Books

FINLAND Recently Issued: Year Packs, Year Books.

GREENLAND: Recently Issued Stamps, Booklets, Maximum Cards, Year Packs.

ICELAND Recently Issued: Stamps, Booklets, Year Packs

NORWAY Recently Issued: Year Packs, Year Books.

SWEDEN Recently Issued: Year Packs, Year Books.

Are you seeking a reliable and cost-effective new issue service for any or all of the Scandinavian countries? Please consider my Scandinavian New Issue Service. You will save at least 30% off the regular prices. Never miss another issue -- I guarantee coverage even if the post office sells out (or never even offers an item to collectors; stay tuned for a surprise in the next edition of the E-News). Read about the Scandinavian New Issue Service and sign up today.


---

ICELAND CHRISTMAS SEALS

The Iceland 2007 Christmas Seals are now on the website. Other items have also been added.

I have recently purchased a large, specialized collection and exhibit of Icelandic Christmas seals, including many scarce and rare items, as well as used seals and on-cover seals. The material covers the gamut from the National-issue "Thorvaldsen" seals, to the classic C/Karitas falcon seals (including a very rare sheet of twenty,) to the classic, rare UMF falcon seals, through all the smaller issuers. This collection will be broken up in the coming months. If you specialize in such material, please send your want list or at least let me know that you would like further details.

2. New Book: Norway Revenue Catalog
Top




It is not often that I can say that a new title of Scandinavian philatelic literature will become a standard work for decades to come or that it will completely revolutionize and popularize the collecting of an area. This is such a publication!

The Revenue Stamps of Norway and Related Non-Fiscal Issues by Bj°rn Kristian Wang, and edited by Paul Nelson, presents this very interesting collecting area in a completely new light and with massive amounts of new information.

Wang, an American of Norwegian heritage, has a reputation for an extremely thorough approach to his studies. Together with invaluable contributions from Paul Nelson and Frederick & Alexander Brofos, plus those of more than 50 other people, Wang has produced an extremely useful catalog / handbook.

Every item is illustrated and fully described. The text is in English (with an English-Norwegian word list to aid our Norwegian friends). Very importantly, there is a catalog price guide (pages 1004-1061) that is extremely helpful. In total there are 1090 pages packed with information.

The "book" was published in two forms:

On CD with color illustrations. The CD contains an (Adobe Acrobat) PDF file that can be viewed on-screen or printed out. It is professionally produced and is very easy to use. I offer the CD for $34.00.

Printed Edition with black/white illustrations. The printed edition includes a copy of the CD! The printed edition is in landscape format with 2-up layout (two original pages printed on each side of paper) -- even so, it is 1-1/8th inches (3 cm) thick! (I am told that a couple small errors on the CD version were fixed for the printed version.) Only 50 books were printed and it is now out of print. It will not be reprinted. I have only a few copies available. Frankly, I believe that the printed reference books are usually easier to use and "paper does not go out of date" (in the way that computer technology changes fairly quickly). If you are a serious collector of this area, I would definitely get the printed book -- remember, it also includes the CD. I offer the Printed Edition for $95.00.

Shipping is additional for book/CD orders. In the U.S. shipment by media mail is a flat fee of $3 regardless of the number of books/CDs ordered (not including "Specials" offerings). Shipping by Priority Mail is available; cost depends upon weight & distance -- please inquire for costs. We are happy to ship internationally -- please inquire for options and costs to your destination.

Norwegian revenue stamps on approval: I do attempt to stock Norwegian revenue stamps, but they sell very quickly, so it is rare that they are offered on my website. If you collect Norwegian (or other Scandinavian) revenues, please tell me about your interests.

3. News and Notes
Top

APS Stamp Show Report

The annual American Philatelic Society Convention "summer" show was held in Hartford, Connecticut this year. Bonnie and I attended and had a booth at the show.

The show was, as usual, well run and in a very nice facility (a recently built convention center). Though us folks from the country don't take kindly to paying $20/day for parking, the rest of the costs were within a "reasonable" range for the big city. [When you have nearly 20 acres of land, paying $20/day for a 8x15 foot parking spot does not sit right.]

We were very fortunate to refresh acquaintance with many of our old friends & clients from the Northeastern part of the country. We were also somewhat surprised at how many new friends were made. It was good to see so many "fresh faces".

I would like to be able to give a more thorough report about the activities and exhibits at the show, however, unlike many shows, we were so busy from opening to close that we rarely got out of the booth; and then it was a mad dash to the restroom or to the concessions for fuel. Neither Bonnie nor I had a chance to see the exhibits or even to survey the floor of the show. However, I must say that I am not complaining!


---

Personal Notes from Bonnie Smith

BRAXTON FAMILY HOEDOWN

I grew up in a large family (I am the 5th of 8 children) and family has always been important to me. Several of my siblings moved away from home as young adults (2 sisters were career-military wives) and over the years it seemed that the only time we were all at home at the same time was for funerals (the last of which was the funeral for my father who passed away 20 years ago this July). When my oldest brother turned 50 in 1994, one of my siblings organized an impromptu, surprise birthday party for him. We all made it home for the party and had such a good time that we all agreed to have a big family party to celebrate each 50th birthday. We call these events a "Hoedown" and usually spend a whole weekend visiting, eating, roasting the birthday child, and playing some of the outdoor and indoor games that we played as children. This year our "Hoedown" for Sister Hope (child number 7 who lives in Albuquerque) is the weekend of September 13-14. I am very excited about seeing all of my siblings and their family members.

HAPPY 85th BIRTHDAY TO MAMA RACHEL

My mother's birthday is September 7th and we are having a special birthday party for her while we are all home for the "Hoedown". My mother doesn't want, or need, any presents (at 85, if she doesn't have "it", she doesn't want "it"), but she has always enjoyed getting mail. I think it would be fantastic for her to receive at least 85 cards for her 85th birthday. If you enjoy bringing a smile to the face of a stranger - send along a card and wish my mother a happy 85th birthday!

Rachel T. Braxton
4093 Salem Church Road
Haw River, NC 27258-9411

HAPPY 10th ANNIVERSARY TO JAY AND BONNIE

For those of you who haven't heard the story... Though Jay and I had already been working together for seven years by 1997, we first "met personally" and fell in love while attending the Pacific 97 Stamp Show in the magical city of San Francisco. We were married 15 August 1998 and spent our honeymoon attending the APS StampShow in Santa Clara, California. This year we celebrated our 10th Anniversary by attending the APS StampShow in Hartford, Connecticut. (Perhaps it is time that I talk to Jay about how other people choose to celebrate their important moments.) Here's to ten more years and many more successful stamp shows!

WHO ARE BONNIE AND HILLARY?

While we were away on our latest show trip, a member of our staff replied to website orders and other email correspondence with some version of the message "Jay and Bonnie (and most of the stock) are away from the office, traveling to/from the APS show in Hartford" and signed the emails "Hillary". After our return, a new client responded to an email and asked "Who are Bonnie and Hillary?" So, I thought it would be a good time to re-acquaint you with our staff.

Jay, of course, is the principal in the business. He started this business when he was about 13 and it has been both his profession and his avocation for 37 years. Jay is most valuable for his philatelic knowledge but also ends up being a "Jay-of-all-trades".

Bonnie (that would be me) has worked for the company for seventeen years and has been married to the boss for 10 of those years. Although I wear many hats, these days I would say that my primary functions include answering and invoicing most of the website orders and many of the postally-mailed orders; answering (with and without Jay's input) much of the client email correspondence; and doing all of the accounting functions.

Throop Brown, a professional philatelist, has been with us for nearly nine years now. He works closely with many of our approval clients; he helps to evaluate collections sent to us for offer; and he describes most of the early U.S. material that is put on our website.

Hillary Griffin, my younger daughter, worked for the company part-time during her teen-age and college years and joined the firm full time about four and one-half years ago. Hillary does much of the work to scan and put stamps on our website. She describes much of the non-classic U.S. and almost all the worldwide material and she works with Jay to put the Scandinavian material on the website. She has done a lot of the work to get the comprehensive Scandinavian country price lists into the database (thus website pages and printed price lists). She and Jay are getting close to having the next country, Finland, complete.

[My older daughter, Heather Griffin, worked part-time for the company as a teenager, but after college, following a brief stint as a teacher, she went into the restaurant business; in a few weeks she will become a Partner (the "owner") of the Outback Steakhouse on Hilton Head Island, South Carolina.]

Dewey Braxton, my brother, came to work for us a little over four years ago after the building materials company where he worked for nearly 20 years shut down. He answers the phone, handles the incoming client mail, packs all of the outgoing client mail (say thank you to Dewey if you appreciate the careful packing and his neatly applied postmarks), and does many other support tasks. Many of you may know that Dewey was involved in a car accident two years ago on his way from the office to the post office (he was broadsided by a car that ran a stop sign). Dewey's brain was bruised by the side impact and he has had a constant and usually severe headache ever since. He has had excellent medical attention but his is an unusual injury that can't just be "fixed". After trying many different medications, the doctors seem to have found one that, at least for the moment, dulls the pain a bit. Dewey is not well, and may never be "well", but is in a little less pain for now. As a tough country boy, if you met him, you would likely never know of his ongoing ordeal. Thank you to the many folks who have expressed their concern for Dewey.

The five of us get along and work well together. We pride ourselves on our customer service. If one of us can't help you, we'll find the person who can. We appreciate your business!


---

Our Stamp Show Schedule: We are attending the following upcoming stamp shows and hope to see you there....

Chicagopex 2008
November 21-23, 2008
Arlington Heights, IL
Arlington Heights Sheraton
This is the Scandinavian Collectors Club 2008 "convention show". Plan to attend for excellent Scandinavian exhibits and fellowship with Scandinavian philatelists.

For more details, the latest information, and links to the stamp show websites, see our show schedule.

4. Special Offers: Collections & Albums -- Great Buys
Top

I am constantly buying large and small Scandinavian, U.S., and Worldwide collections. If you are considering getting into a new area and would like a "starter collection" (whether small or large), let me know about your interest. Also, if you are seeking used binders or used empty albums to match what you currently have, again, let me know. In the process of buying Scandinavian collections, many of my long-time clients (or their estates) ask that I assist in selling the non-Scandinavian portion of their collections. If there is something you are looking for, just let me know. Take a look at the current listings on the web site (but if you don't see your interest listed, please inquire -- most have not been listed on the web site yet).

I guarantee your satisfaction. Each item is one of a kind; orders will be filled in order of receipt. Payment by MasterCard or Visa suggested, but I will hold items for 10 days pending receipt of your check or money order if you prefer.

Useful Links:
Scandinavian Collections
U.S. and World (Non-Scandinavian) Collections
Used Albums & Binders

Scandinavia: Thousands of Stamps and Covers!
U.S. Individual Stamps: Great Items at Great Prices!
World Individual Stamps: Great Items at Great Prices!

SCANDINAVIAN COLLECTIONS

For more and the latest listings, see: Scandinavian Collections


---

WORLDWIDE COLLECTIONS

For more and the latest listings, see: U.S. and Worldwide Collections


---

ALBUMS & SUPPLIES

For more and the latest listings, see: Scandinavian, U.S., and Worldwide Albums and Supplies

For new Stender Albums, see: Stender Albums

5. Used and One-of-a-kind Philatelic Literature
Top

Most of these books are one-of-a-kind, thus be sure to order early. This is just a tiny glimpse of the used books available. Please take a look at the complete Literature Specials price list -- it has much more to offer. I welcome your want list for any Scandinavian books you are seeking. "New" books will be in brand-new condition. "Used" books will be used, though in attractive and serviceable condition; these books may contain minor owner's marks and have typical wear, but any significant defects will be noted in the description. Most "used" books are in much better condition than you might think; many are pristine.

For more and the latest listings, see: Scandinavian & Worldwide Literature Specials Table of Contents.


NEW CATALOG
FALKLAND ISLANDS
We are U.S. Distributor
The KEY reference!
In Stock
Order Now!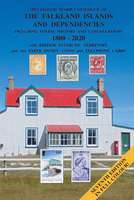 The primary reference for all aspects of Falkland philately, including postal history and postmarks.
$49.00 Postpaid
in U.S. by Media Mail
---

FEATURED SPECIAL
SWEDEN
Official Blackprint
1856/1862 Local Stamp
Very Limited Supply!
Order Now!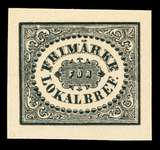 Official blackprint/reprint made in 1930 to aid in study of the printing plate. Ungummed on thick card, as issued. Seldom offered.
Single $12.00
Pair $22.00
Block $40.00
Other reprints also available.


---

FEATURED SPECIAL
Rare ICELAND 1911
CHRISTMAS SEAL
World Classic Seal Design
Very Limited Supply!
Order Now!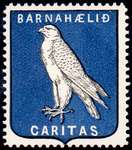 Seldom offered and rarely at such a low price! A once-in-a-lifetime purchase allows me to share the savings with you.
NH VF normally $60.00!
NH VF Only $36.00!
(A few others $18-$48.
1904 and 1905 also available.)


---

FEATURED SPECIAL
DANISH "STAMP COINS"
From World War II
Only a few available!
Order Now!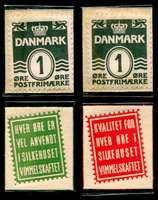 SET OF TWO.
Only $16.00!
IN STOCK!
---
FEATURED SPECIAL
SWEDISH LADYBUG VERTICAL COIL "ERROR"
Limited Supply!
Order Now!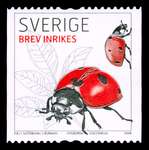 Unplanned Vertical Coil "Error" Stamp.
IN STOCK!
---
SPECIAL OFFERS!
GREAT VALUES!
Updated 6 October 2022
Scandinavia:

Philatelic Literature

Collections

Used Albums
U.S. Stamps:

NH, Mint, and Used at great prices.

Collections
World Stamps:

Better stamps at great prices.

Collections
SCANDINAVIAN PRICE LISTS BY POSTAL MAIL
Over 100 pages of price lists are available by postal mail. While these will eventually also be available on the web, I am not quite there yet. Request your copy of the printed price lists today.
SCANDINAVIAN PRICE LISTS ON THE WEB Take a look at my specific country price lists and topic price lists on the web.
Approvals are the best way to add to your collection.
If you prefer to examine stamps and compare them to your collection, before you purchase, you will very much enjoy my approval service. Send your want list today.
Stender Scandinavian Stamp Albums
Albums made in Scandinavia, by Scandinavians make the most sense. Well designed and attractive, these extremely price competitive albums will make a great home for your collection. See the complete price list.
I have added a Frequently Asked Questions "FAQ" page for web site, computer, and Internet questions as they relates to my site. I welcome your comments, input, suggestions, corrections, etc.