Subscribe to the Scandinavian Philatelic E-News
Scandinavian Philatelic E-News: 2008 October 9

If you missed the 1 April 2008 E-News discussing, illustrating, and offering the

Swedish Ladybug "error" stamp,

click here.

If you missed the 17 April 2008 E-News discussing, illustrating, and offering the

Norden 2008 Nordic Mythology issues & pack

, click here.


CONTENTS:

1. New Items on the Website
Canada Stamps
U.S. Stamps

2. New AFA Denmark Catalogs

3. News and Notes
Stamps in Times of Economic Uncertainty
United States Web Page Reorganization
The Website Grows
Our Stamp Show Schedule

4. Special Offers: Collections & Albums -- Great Buys

5. Used and One-of-a-kind Philatelic Literature

1. New Items on the Website
Top
[Click on images to see the applicable price lists and more items & pictures,
along with links to larger pictures.]

CANADA STAMPS
Wide Range of Very Nice Stamps


A wide range of Canadian Stamps (many pages) have been added to the website, with hundreds of new listings. The additions include mint never hinged, mint hinged, and used stamps, as well as a few stamps with slight defects at very low prices. If you collect Canada (or would like to) don't miss seeing these stamps.


---

[Click on images to see the applicable price lists and more items & pictures,
along with links to larger pictures.]

UNITED STATES STAMPS


The United States stamps listings have again been expanded with hundreds more attractive and fresh stamps.

Of special interest is a U.S. #569 Double Transfer. The Scott Catalog editors had not seen an example offered for several years and thus did not have a basis upon which to properly, currently value the stamp. This example will be used for a color picture in the next edition of the catalog.

The United States web pages have also been reorganized (so that the pages load faster) into smaller, Scott number range pages. The U.S. Table of Contents provides the full listing of pages. (All pre-existing links will continue to work, but may now go to the first Scott-number page in a previous time-period section. If you find any completely non-working links, please let me know.)

If you collect U.S. stamps, you really should take a look.


---

2. New AFA Denmark Catalogs
Top
The new annual AFA Catalogs have arrived. AFA catalogs are the primary catalogs used in Denmark and have the "closest to market" pricing.

AFA Denmark Catalog: The primary annual catalog used in Denmark. Lists all Danish, DWI, Faroe, Slesvig, and Greenland stamps with COLOR illustrations throughout. Includes FDCs, booklets, most major varieties, advertising pairs, coil combination pairs, machine stamps, reprints, Christmas seals, etc. Also prices postally used covers up to 1996. If you collect Denmark (and/or Faroe, DWI, or Greenland), you will enjoy this catalog. Now includes an alphabetical index by stamp subject (issue name). #1445 $49.95
Order here


AFA Scandinavia Catalog: The primary Scandinavian catalog used within Denmark. Not specialized and entirely in Danish, but handy if you correspond with collectors in Denmark. Also includes Estonia, Lithuania, and Latvia! #1517 $47.95
Order here

AFA 4-Block Catalog (Denmark, Faroe, Greenland, Slesvig): Lists and prices all Danish mint and used 4-blocks and advertising panes; all 4-blocks, plate blocks, and sheets from Faroe and Greenland, and all Danish L-number plate blocks and sheets. #13190 $20.75
Order here


Shipping is additional for book orders. In the U.S. shipment by media mail is a flat fee of $3 regardless of the number of books ordered (not including "Specials" offerings). Shipping by Priority Mail is available; cost depends upon weight & distance -- please inquire for costs. We are happy to ship internationally -- please inquire for options and costs to your destination.



---

Every 5-7 years, the AFA Specialized Catalog is issued -- 2008 is the most recent edition. This catalog is the ultimate for the specialist in Denmark or Danish West Indies (and also with specialized listings for Faroe, Greenland, and Slesvig). This is a must-have catalog for any serious collector of Denmark or DWI who goes beyond the "normal" stamps. It typically sells out years before the next edition (which will probably not be until at least 2013!). Do not delay getting your copy.
Complete information and ordering here.

3. News and Notes
Top

Stamps in Times of Economic Uncertainty

In the month that has passed since the last E-News, it seems like parts of the world's economic system have imploded. That this is happening cannot (and should not) be denied or minimized. Everything will not be "okay" for everybody. However, at the same time, while the situation is scary, for many people the outcome will probably not be as bad as the cable TV self-important talking heads try to make us think. The world's economy as a whole and all the national economies are deep, wide, and more complex than they have ever been -- while there will be severe difficulties ahead, everything is not going to grind to a complete halt. People at all levels of our economy made a lot of bad decisions in the last few years. Whether it is the "Wall Street" types that cooked up baseless schemes or whether it was the otherwise common-sense hometown folks who managed to convince themselves that house values would rise forever and that there was no risk in accepting a mortgage that they (at some level) knew they could not afford, virtually all of us are to blame for forgetting the reality of risk. The adage that "we live in interesting times" has special meaning these days. Also, the over-used "dark clouds have silver linings" is as true as ever. There are and will be incredible opportunities today and over the next few years. Remember also that one should "buy low, sell high." I am not qualified (is anybody?) to know if the "markets" are yet at their lowest point, but now is the time that I am thinking about buying into the "markets", NOT selling!

But how does all of this affect the stamp market, stamp values, and the world of philately? That question is being asked by a lot of collectors these days.

There are a wide range of factors that influence stamp values. These factors push and pull on each other like an endless tug-of-war contest. Some occur at a global level, others at a national level, and yet others at macro (philately) and micro (specific areas/items) levels. If somebody says "because X has happened, stamp prices will generally go up/down", they are probably grossly oversimplifying the situation.

Here are a few of the factors that may bear on the stamp values in the future months and years:

In times of uncertainty (or inflation, which is happening in some countries such as Iceland), people tend to invest in "hard assets" rather than cash, debt instruments (bonds), or stocks. While stamps are certainly not as "hard" or as necessary as gold, oil, foodstuffs, etc., there is often increased investor interest in stamps at such times and thus attendant price increases. Though the "markets'" severe decline in recent time suggests that investors don't have money to invest, there are actually a surprisingly large number of people that did sell investments at the high(er) point and thus do have cash to invest today.

Relative values of currencies affect stamp prices in various markets. Over the last few years, the U.S. Dollar's inexorable fall against the Euro has caused an increase in US$ stamp prices in the U.S. for those stamps that have their "home" market in Euro-based regions. Except for Finland and Åland which do use the Euro, the other Scandinavian countries have their own currencies -- but their currencies are more closely connected to the Euro than the Dollar, thus we can call the Scandinavian currencies Euro-affected, if not Euro-based. With the trouble in financial markets, the U.S. Dollar has actually gotten a little stronger against the Euro; which would suggest Scandinavian stamp values stated in U.S. Dollars are lower than they were a month ago, (assuming that the home-currency-stated values are unchanged). However, looking forward, one has to think about whether the U.S. economy is going to recover faster and/or come out stronger than the Euro economies. Though much of the original cause of all this mess is based in the U.S., the U.S. economy is mind-bogglingly large and diverse and thus may have great resiliency. The Euro economies are certainly much larger and more diverse than they once were, but they also have innumerable constraints (regulatory, legal, labor, etc.) that may severely limit their economies' speed and/or extent of recovery. What will the relative value of currencies be a couple years from now? If I could guarantee the answer to that, I would be one of those Wall Street bizillionaires.

An individual country's economic situation is obviously a great factor in home-country collectors mood for and ability to buy stamps -- but sometimes in a different direction than one would first assume. If you have watched world economic news in the last few days, you know that Iceland is currently undergoing extreme stress; in the last day the prime minister has stated that it is possible that the country could go bankrupt. Iceland went into the current mess already with high inflation (which bears on the underlying reasons for their current particular problem). What many people may not be aware of or remember is that Iceland has experienced periods of severe inflation and currency devaluation since the WWII era. In those inflationary times, Icelanders often invested heavily in stamps. If they were to do that again, it could significantly increase Icelandic stamp values.

Long-time stamp collectors will likely be aware that during the time of the Great Depression, the stamp market was actually one of the better performers compared to most markets and industries. The reasons usually stated for this are that people needed a low-cost leisure activity to help deal with the stresses of the times and they knew that their expenditures on stamps retained at least some value, unlike money spent on most leisure activities. Times and demographics certainly have changed since then; the demographic of the average collector is now much older. But even in the current difficult economic times, many of those older collectors are probably more likely to have more discretionary income that they can choose to invest in their stamp collection. This gravitation to leisure activity was recently termed the "Shirley Temple Effect" by Howard Stringer, Chairman and CEO of Sony Corporation of America. In an interview yesterday (10/08/2008) with Charlie Rose (an extraordinary U.S. TV interview program on PBS), Stringer emphasized that his company's experience is that, in difficult economic times, people seek out stress-relieving, lower-cost leisure activities. In his company's case, this means that younger generations [20s-30s year olds] are using video games more than ever (perhaps instead of traveling or buying a new car, etc.) and buying the related products, hardware, and new TVs to better enjoy their experience. As a result, Sony is doing quite well.

What the overall financial landscape will look like in a year or two is a matter of intense debate -- anybody who "knows" is likely to be wrong. However, we do know that with the exception of the "Europa scheme" run by two Spanish "stamp investment" companies, the vast majority of stamp values in the last few years have been solid and reasonable, without significant speculative activity. There has not been a "bubble", thus there is no bubble to pop. That does not mean that stamp values cannot go down. However, there are just as many reasons why stamp values can remain stable or even increase in the coming few years.

I continue to be "cautious and reasonable" in all that I do. I pay serious attention to potential risks and I do not fool myself into thinking that anything is risk free. However, I believe that the future holds many sound opportunities and that with continued care, thought, and hard work, there is a bright future coming.


---


United States Web Page Reorganization

The United States web pages have been reorganized (so that the pages load faster) into smaller, Scott number range pages. The previous arrangement (by ranges of years) had resulted in pages that were much too large. Hopefully the new arrangement will be faster and more useful.

The U.S. Table of Contents provides the full listing of pages.

All pre-existing links will continue to work, but may now go to the first Scott-number page in a previous time-period section. If you click an old link for a specific stamp (perhaps from an Internet search engine result) you might find yourself on a page that earlier than the stamp you wanted to see. In that case, navigate to the appropriate later page, using the page number links at the top/bottom of each page.


---


The Website Grows

There are now 1688 pages in the Jay Smith & Associates website. There is a lot more to come, but if you have not visited the site recently, please take a look in your areas of interest.


---

Our Stamp Show Schedule: We are attending the following upcoming stamp shows and hope to see you there....

Chicagopex 2008
November 21-23, 2008
Arlington Heights, IL
Arlington Heights Sheraton
This is the Scandinavian Collectors Club 2008 "convention show". Plan to attend for excellent Scandinavian exhibits and fellowship with Scandinavian philatelists.

For more details, the latest information, and links to the stamp show websites, see our show schedule.

4. Special Offers: Collections & Albums -- Great Buys
Top

I am constantly buying large and small Scandinavian, U.S., and Worldwide collections. If you are considering getting into a new area and would like a "starter collection" (whether small or large), let me know about your interest. Also, if you are seeking used binders or used empty albums to match what you currently have, again, let me know. In the process of buying Scandinavian collections, many of my long-time clients (or their estates) ask that I assist in selling the non-Scandinavian portion of their collections. If there is something you are looking for, just let me know. Take a look at the current listings on the web site (but if you don't see your interest listed, please inquire -- most have not been listed on the web site yet).

I guarantee your satisfaction. Each item is one of a kind; orders will be filled in order of receipt. Payment by MasterCard or Visa suggested, but I will hold items for 10 days pending receipt of your check or money order if you prefer.

Useful Links:
Scandinavian Collections
U.S. and World (Non-Scandinavian) Collections
Used Albums & Binders

Scandinavia: Thousands of Stamps and Covers!
U.S. Individual Stamps: Great Items at Great Prices!
World Individual Stamps: Great Items at Great Prices!

SCANDINAVIAN COLLECTIONS

For more and the latest listings, see: Scandinavian Collections


---

WORLDWIDE COLLECTIONS

For more and the latest listings, see: U.S. and Worldwide Collections


---

ALBUMS & SUPPLIES

For more and the latest listings, see: Scandinavian, U.S., and Worldwide Albums and Supplies

For new Stender Albums, see: Stender Albums

5. Used and One-of-a-kind Philatelic Literature
Top

Most of these books are one-of-a-kind, thus be sure to order early. This is just a tiny glimpse of the used books available. Please take a look at the complete Literature Specials price list -- it has much more to offer. I welcome your want list for any Scandinavian books you are seeking. "New" books will be in brand-new condition. "Used" books will be used, though in attractive and serviceable condition; these books may contain minor owner's marks and have typical wear, but any significant defects will be noted in the description. Most "used" books are in much better condition than you might think; many are pristine.

For more and the latest listings, see: Scandinavian & Worldwide Literature Specials Table of Contents.


NEW CATALOG
FALKLAND ISLANDS
We are U.S. Distributor
The KEY reference!
In Stock
Order Now!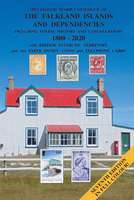 The primary reference for all aspects of Falkland philately, including postal history and postmarks.
$49.00 Postpaid
in U.S. by Media Mail
---

FEATURED SPECIAL
SWEDEN
Official Blackprint
1856/1862 Local Stamp
Very Limited Supply!
Order Now!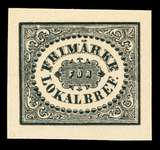 Official blackprint/reprint made in 1930 to aid in study of the printing plate. Ungummed on thick card, as issued. Seldom offered.
Single $12.00
Pair $22.00
Block $40.00
Other reprints also available.


---

FEATURED SPECIAL
Rare ICELAND 1911
CHRISTMAS SEAL
World Classic Seal Design
Very Limited Supply!
Order Now!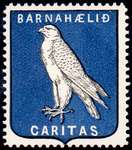 Seldom offered and rarely at such a low price! A once-in-a-lifetime purchase allows me to share the savings with you.
NH VF normally $60.00!
NH VF Only $36.00!
(A few others $18-$48.
1904 and 1905 also available.)


---

FEATURED SPECIAL
DANISH "STAMP COINS"
From World War II
Only a few available!
Order Now!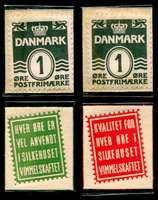 SET OF TWO.
Only $16.00!
IN STOCK!
---
FEATURED SPECIAL
SWEDISH LADYBUG VERTICAL COIL "ERROR"
Limited Supply!
Order Now!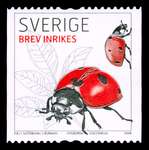 Unplanned Vertical Coil "Error" Stamp.
IN STOCK!
---
SPECIAL OFFERS!
GREAT VALUES!
Updated 26 November 2021
Scandinavia:

Philatelic Literature

Collections

Used Albums
U.S. Stamps:

NH, Mint, and Used at great prices.

Collections
World Stamps:

Better stamps at great prices.

Collections
SCANDINAVIAN PRICE LISTS BY POSTAL MAIL
Over 100 pages of price lists are available by postal mail. While these will eventually also be available on the web, I am not quite there yet. Request your copy of the printed price lists today.
SCANDINAVIAN PRICE LISTS ON THE WEB Take a look at my specific country price lists and topic price lists on the web.
Approvals are the best way to add to your collection.
If you prefer to examine stamps and compare them to your collection, before you purchase, you will very much enjoy my approval service. Send your want list today.
Stender Scandinavian Stamp Albums
Albums made in Scandinavia, by Scandinavians make the most sense. Well designed and attractive, these extremely price competitive albums will make a great home for your collection. See the complete price list.
I have added a Frequently Asked Questions "FAQ" page for web site, computer, and Internet questions as they relates to my site. I welcome your comments, input, suggestions, corrections, etc.