| | |
| --- | --- |
| Sweden: Specialized Stamps: Official Stamps For Foreign Mail 1876-1900 | |
Scott numbers have been used unless otherwise indicated. All items are available for viewing on approval.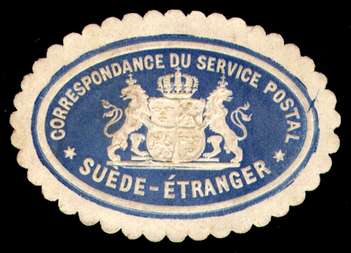 On 12 September 1876, the Swedish post office created an special type of stamp for use specifically by post offices for official postal mail sent to foreign countries. On-cover examples are very scarce; typical uses are inquires to foreign post offices regarding missing mail items and on money orders sent to foreign countries. Most extant covers are to Denmark; other destinations are rare. The stamps are listed by the Facit Specialized Scandinavia Catalog, though at values that are impractically low. Most examples of single stamps have at least minor damage; undamaged examples are quite scarce. Uncanceled examples are more often seen than canceled examples, however, examples with gum are particularly scarce.

There are two types: the first, issued in 1876 has 6-pointed stars; the second, issued in 1892, has 5-pointed stars. There are numerous color shades of each. The stamps were "suspended" from 1 April 1900, however examples are found used until 1906.
I am sorry, all of the items offered on this page have been sold (or the page is still in the process of being created and filled). I will be filling/refilling this page soon, but if there is something you are seeking, please email me to let me know about your interest.